Vehicle types
Small trucks to prime movers, trailers, refrigeration trucks, support vehicles, traffic control vehicles,
Advantages of EWP
Quick access to the undercarriage – no hoist set up required
Trailers can remain hitched to trucks
Drive through bays promote faster servicing and regular mandatory inspections
Variations in chassis height are no issue
Run tests are safer and easier, easy access to cabin while servicing
Service crew can access all levels of the vehicle at the same time
Toolboxes can be loaded onto the EWP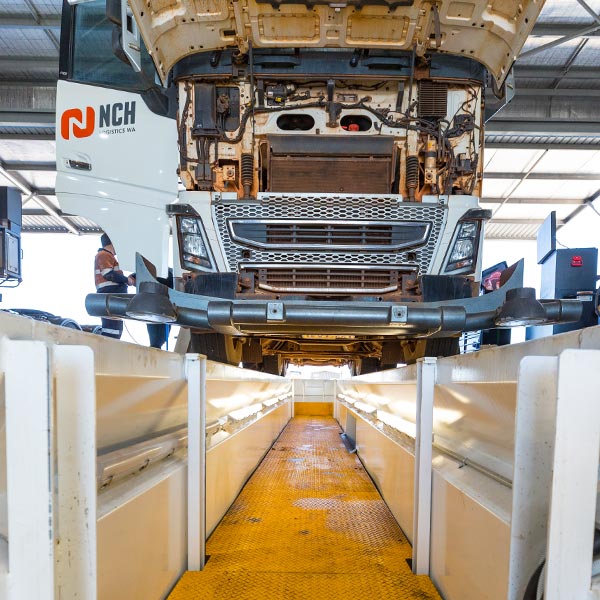 Service crew can access vehicle at different levels at the same time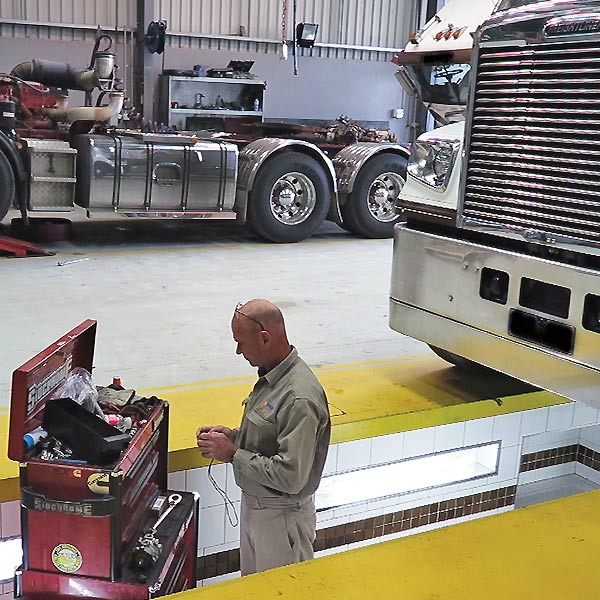 Tool box can accompany mechanic on the EWP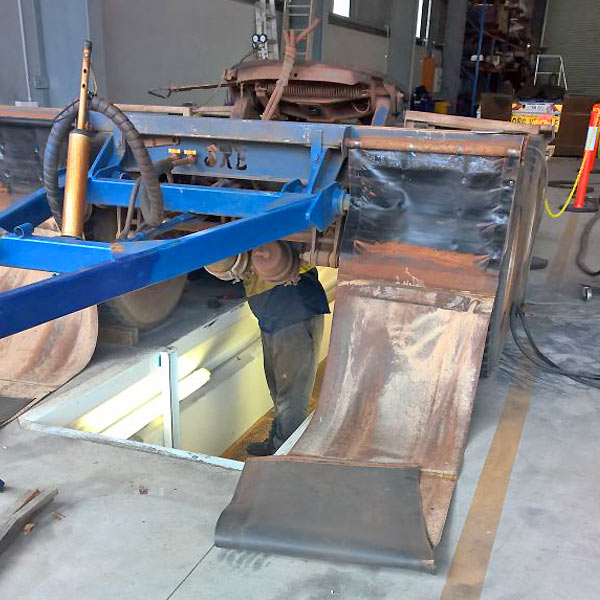 Trailers can remain hitched while working over a pit
Case study : WA Truck Centre, Port Hedland, WA
Industry type: Dealership, Sales & Service Trucks
Installed:  2017
Workshop: 10 bays (2 bays with pits)
Installation type: Prefabricated drop-in pits in 2 bays
Pit lengths: 23m each
EWP: 2 x independently operated 11m EWPs in each pit (4 x EWP)
Platform floor:  steel plate
When planning the new workshop facility for Port Hedland, WA Truck Centre determined the EWP in pits were going to provide the best efficiency for their large operation when it came to servicing the local fleets.  A recent visit to their new facility demonstrated the suitability/productivity of the EWP for this busy workshop.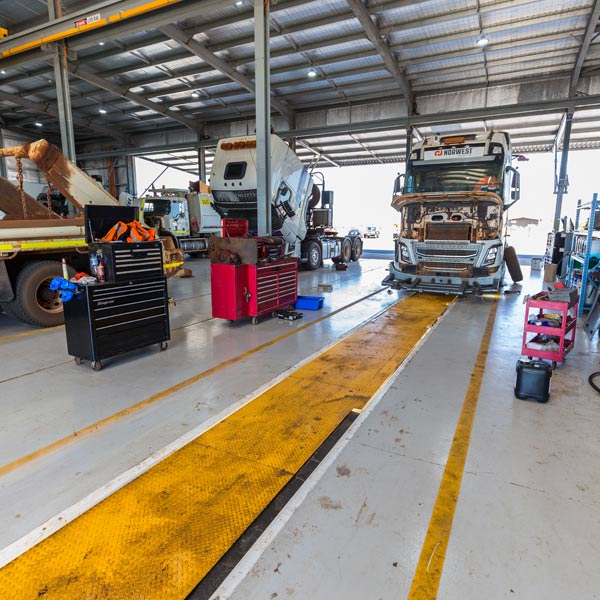 Workshop with 2 pit bays, each pit with 2 independent EWPs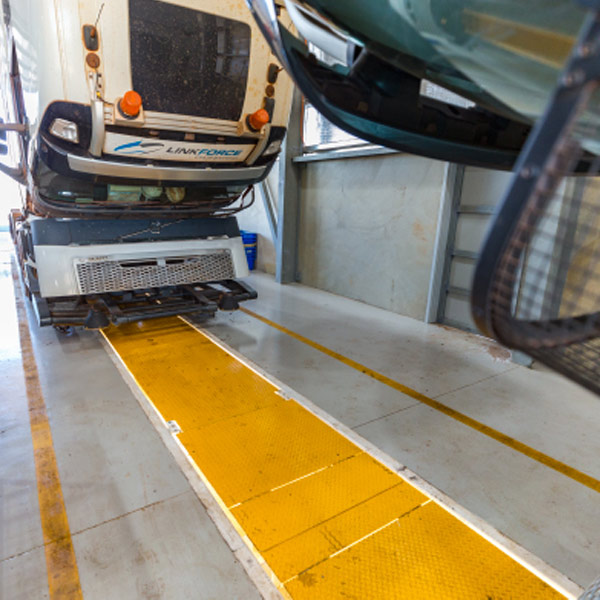 Independent EWPs allows the platforms to be at different heights while working on 2 trucks over the pit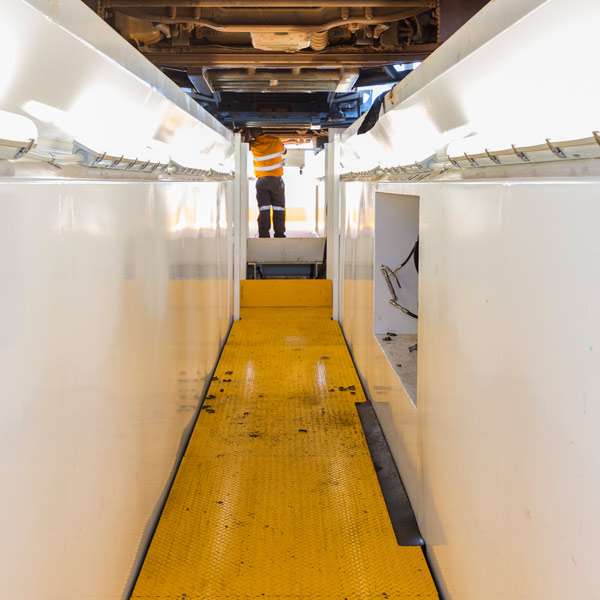 Platform adjusts to mechanics height and vehicle undercarriage
Case study : Volvo Commercial Vehicles, Darwin NT
Industry type: Dealership, Sales & Service Trucks
Installed:  2007
Workshop: 10 bays
Installation type: Retrofit existing pit in 1 bay
Pit length: 10m
Platform type:  steel plate
This was the first EWP retrofit for a commercial workshop pit and was the ideal test case for the product.   It has proven to be incident-free with no OH & S issues and no major parts requiring replacement.  Feedback from workshop staff has been very positive, even from those who initially had concerns of its efficiency.   Staff now prefer the EWP in the service pit rather than the column lift hoists especially for gearbox and clutch work as jobs can be completed faster and more safely.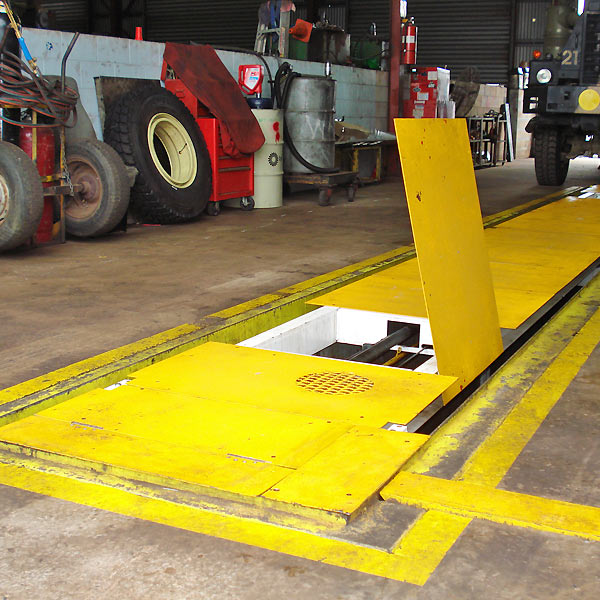 The first commercial EWP installation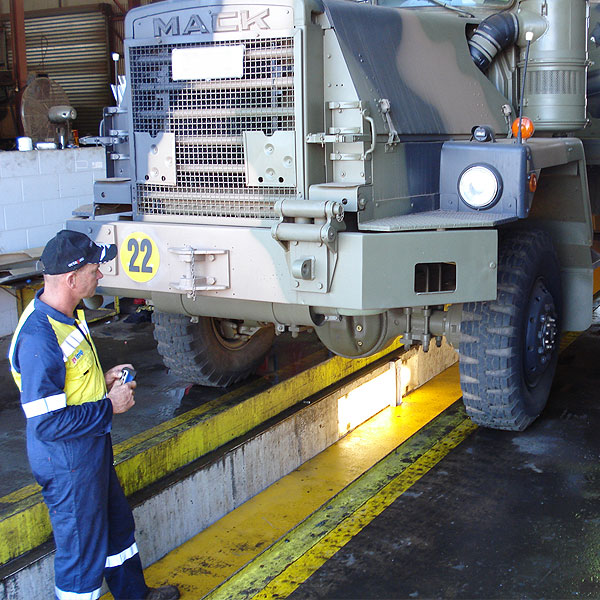 EWP suits both smaller trucks and primemovers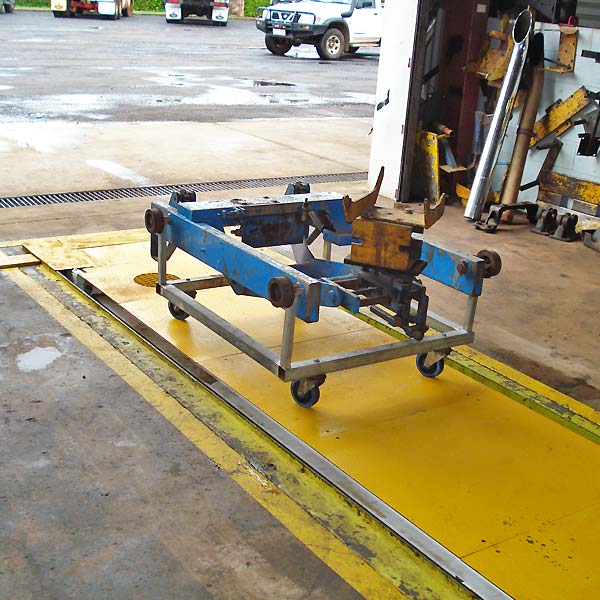 Gear box jack trolley further increases the efficiency of this workshop
Efficiency Tips!
Suspension maintenance – access options improve efficiency
A simple job like changing over suspension bushes on a prime mover with trailers can equate to 1 or 2 days' work. Just by improving the ease of access to the bushes, a WA hauling company, Bullbuck Transport, reduced the job of replacing bushes on a quad road train from 2 days down to 1 day.
The following points may seem pretty minor on their own but just by implementing a few will add up to a significant time saving especially when replacing 240 bushes on a quad road train! Multiply that saving across your fleet, and then over a year.
Can you avoid unhitching the trailer(s)?

How quickly and easily can you reach the undercarriage of the vehicle?

Can you easily access the suspension without straining?

Can you adjust your working height to comfortably reach bushes at different levels?

Do you have all tools and equipment within reach?

Are all the spare parts, consumables and lubricants within reach?

Once fitted, can you visually confirm the bush is positioned correctly without straining?

Can you avoid continual repositioning of the truck and trailers to gain access to the whole length of the undercarriage?

If you need to support a suspension component with a jack or stand are there safe and easily available options?

If working from a pit can you easily exit if the vehicle extends beyond the full length of the pit?
Testimonials
The 1,000 hour service took about 12 hours before we had the pit. With the new pit and EWP it takes around 8 hours …the mechanics have said they wouldn't want to go back to the way we used to service … We can now use that bay (with the pit) for general workshop space because the pit is covered.
The platform is really helpful when doing drive line components, lining up clutches and lifting them into place. Putting tail shafts in place is easier; just put the shaft on your shoulder and raise the platform until it's in line and then do up the bolts. No struggling and staining or lifting at awkward angles and heights.