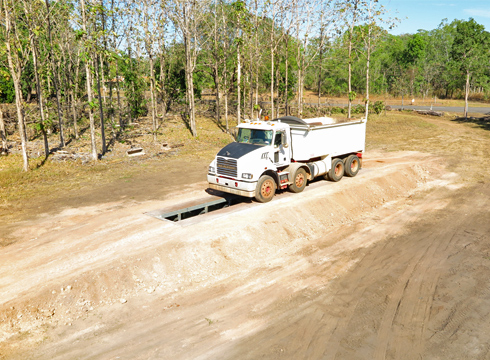 The mobile mechanical service pit fitted with an elevating work platform (EWP)
Based on the dimensions of a 12m/40ft ISO container, this sealed facility is installed in the ground for drive on application at terrain level. The EWP in the service pit is controlled by hand-held radio transmitter to easily adjust height of platform to suit vehicle undercarriage and technician height. EWP acts as a pit safety cover at terrain level when not in use.
Turn-key operation.

Readily transportable in 12m/40ft ISO container format.

Field ready in 2 days, no formwork or pre-concrete works required.

Improves workplace safety, vehicles stay safely on the ground.

Sealed sides and base of the facility contains workshop fluid wastes and spills.
Low power consumption, powered by site generator.

Custom-designed to suit any fleet, including equipment, storage requirements, waste recovery, lubricant dispensing system, customised jacks and lifting equipment.

Suction release system for easy ground extraction.

Cost effective, long-life asset with ability to re-deploy.

Easily stored with equipment contained within the facility when not in use.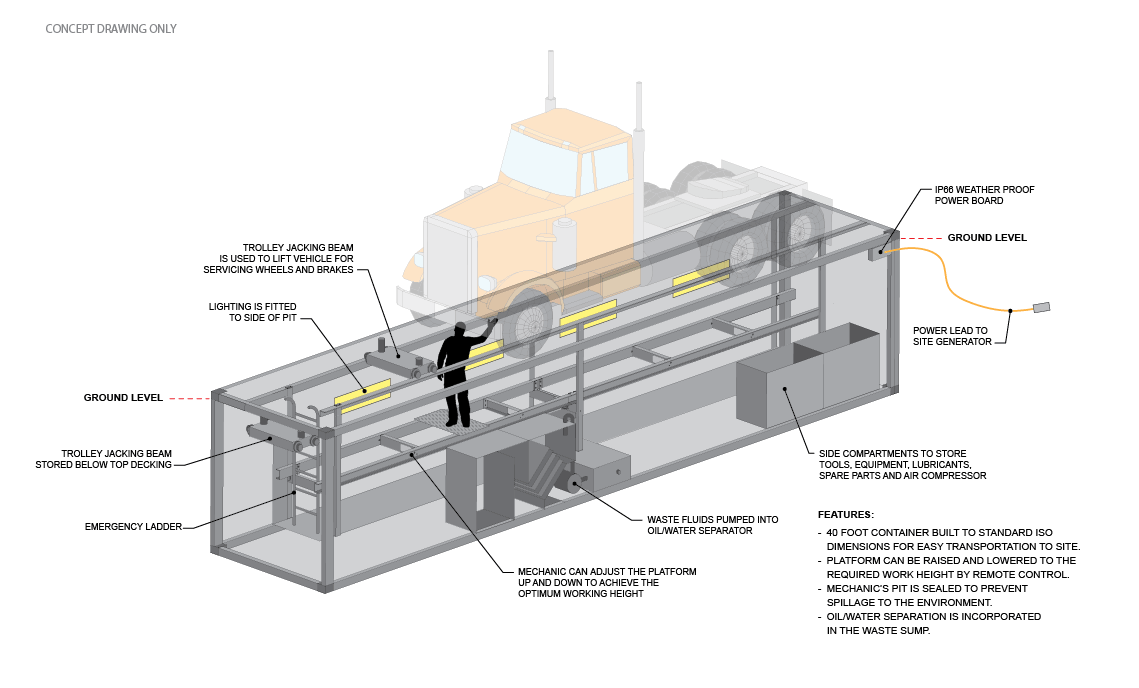 Pit fitted with an EWP
Increases workshop efficiencies – providing fast access to undercarriage of ALL vehicle types, with easy drive-on application.

Height easily controlled by use of hand-held remote transmitter with infinite height adjustments to suit vehicle undercarriage and technician height.

EWP can be used to raise and lower lifting jacks/devices and tools using the pit railing.

Enables multi-level servicing at the same time without obstructions; underneath, side, top and internally.

Tools, equipment and parts can be loaded onto platform with mechanic/technician.

EWP in pit has proven to reduce servicing turnaround by up to 30%.

EWP system is easily maintained and repaired by workshop staff.
Fixtures, Tools & Accessories
Waste recovery system with triple interceptor oil-water separator and storage tanks.

Bilge sump pumps x 2, operated by air.

Lubricant dispensing system, air operated as per customer requirements.

Air compressor, externally mounted and connected after installation as per customer specifications.

Pit lighting activated and deactivated when lowering and raising the EWP.

Ventilation fan in platform floor is activated and deactivated when lowering and raising the EWP.

Emergency ladders fixed at each end of the pit.
SAFETY
Designed for fail-safe operation with tested components and override systems
Workplace safety management
Vehicles remain safely on the ground removing overhead hazards as with hoists, especially on uneven or unstable terrain.

Pit is safely covered by EWP immediately after use.

Pit ventilation automatically activates.

All equipment within the pit facility is intrinsically safe to Hazardous Environment Standards AS/NZ 2430.3.2.2004 Class 1 Zone 2.

Site contamination avoided with sealed facility sides and base.
FACILITY HIGHLY SUITABLE FOR
Defence exercises

Remote road work crews

Mining exploration

Remote construction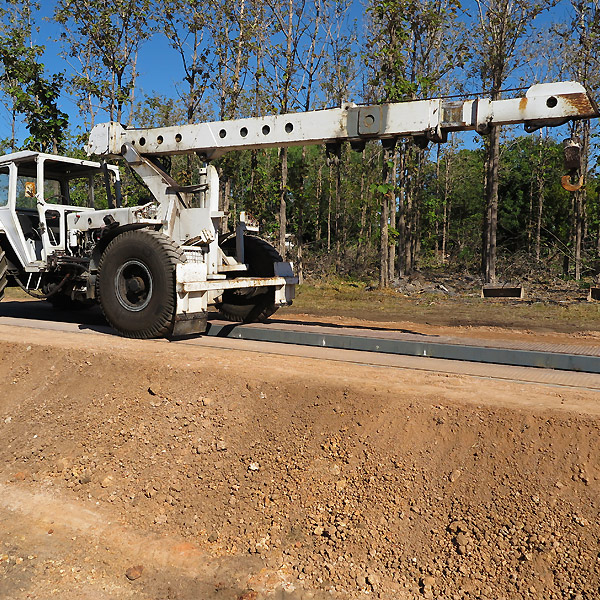 Redeployable workshop with pit in the field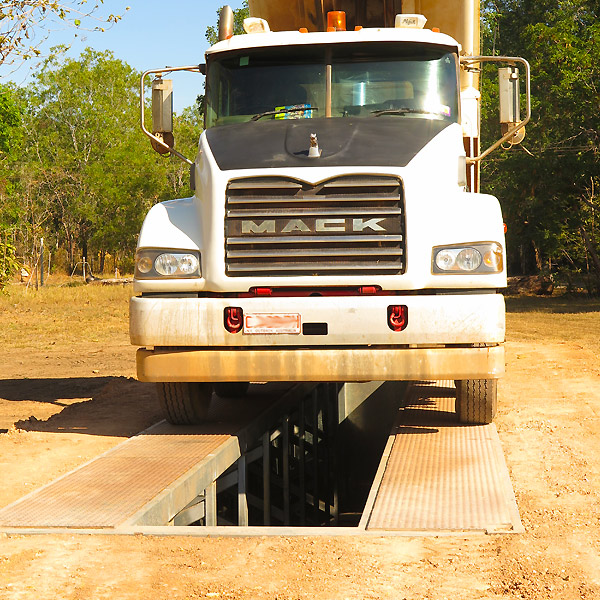 Redeployable workshop with pit and elevating work platform avoids lifting vehicles in the field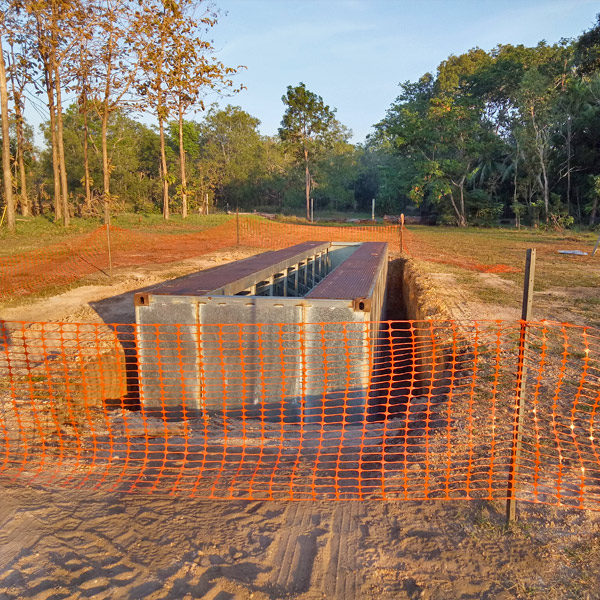 Installation of the workshop facility can be achieved within 2 days